The Top 5 Tile Patterns for the Modern Kitchen
August 10th, 2022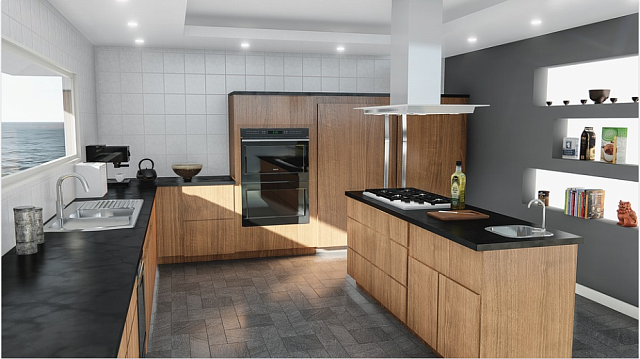 Kitchens naturally have tile flooring. Tile is tough and long-lasting. Tile is resistant to smells, bacteria absorption, heavy foot activity, water, and stains. It can withstand use by kids and dogs, and complement any decor.
Tile may also be set in a wide variety of ways. Additionally, it is stunning; as you browse the enormous variety of available forms, shapes, and colors, your ideas for kitchen flooring will flourish.
That's why by far, the fascinating aspect of designing a kitchen is coming up with kitchen tile ideas. You can add color, texture, and character with tiles. In a space where so many choices must be helpful, they give you the option to be imaginative and make some beautiful choices. Here are some of the best tile patterns you should get today.
Herringbone
The term "herringbone" comes from the sharp diagonal lines on the bones of the herring fish. This adaptable tile design may be used to decorate everything from shower walls to bathroom floors and kitchen backsplashes. Its vertical angles provide a sense of depth, which may make a place appear longer.
The 45-degree angled tiles that make up this design are arranged in V-shaped rows. Installing large or tiny rectangular tiles with this arrangement is traditional but visually appealing.
Offset/Running Bond
This typical brickwork design, also known as offset or staggered brick, starts each tile in the center of the tile below it. This simple, traditional design makes subway tiles on walls and floors look great. Due to its widespread use in brickwork, this design is called the "brick pattern." Each tile's center is aligned with the edge of the one above it. You'll see it is used a lot for subway tiles, but you can also lay square tiles or tiles in more unique shapes using a running bond.
1/3 Offset
In this design, each tile offsets the tile underneath it by one-third of its length, giving the pattern a staggered diagonal appearance. This design scheme is frequently applied to one-, two-, or three-color designs. A 1/3 offset tile pattern on the backsplash or the flooring adds interest and gives your classic or transitional kitchen or bathroom a modern twist. It also provides the space with a polished, designer vibe.
1/4 Offset
The one-quarter offset is a twist on a twist, inspired by the 1/3 balance but changed enough to remove the diagonal line illusion and provide a visual "randomness" without the disorder. Mandi of Vintage Revivals may have invented it. Alternating up the wall, one row is offset by one-fourth of the tile's width, and the following row is offset by one-half (similar to a running bond).
Stacked Vertical
Tiles are layered vertically in this design, accentuating the height of your room by making your walls appear higher. In this design, subway tiles suddenly come to life and have a geometric charm. Large-format vertically layered tiles expand your walls and floors in both directions. An entirely white wall may be elevated simply by adding texture.
Stacked Horizontal 
Horizontally stacked subway tile has a clean linear pattern with rows of perfectly stacked tiles directly on top of one another. The repetition of this design element creates a minimalistic, grid-like appearance commonly seen in mid century and modern designs. Because of the strong grout lines, many designers prefer horizontally stacked subway tiles, resulting in a clean geometric feel that catches the eye immediately.
Working with a professional who knows the many types of material, texture, finish choices, and the finest installation techniques may help you acquire the ideal tile floor for your kitchen if you are unsure of exactly what you want. Michaels Flooring offers personalized and high-quality solutions for all commercial and residential projects throughout the Niagara Falls area. Contact us today!