Commercial Flooring
It's tough trying to decide the quality and grade of commercial flooring for your office, store, or factory. How long will it last, is it stain resistant, is it slippery, what if we drop something?
The flooring specialists at Michael's Flooring can take the tough decisions and turn them into easy ones, cost-effectively.
We have done new homes, banks, hospitals, veterinary clinics, craft and furniture stores, offices, and ships that supply the Great Lakes. If someone walks on it, chances are a Michael's Floor will go onto it.
Michael's Flooring supplies many commercial locations in the Niagara Region and Golden Horseshoe.
Schools
Offices
Hotels
Motels
Restaurants
Stores
Nursing Homes
Hospitals
Our commercial flooring specialists can help you prepare a budget and design specifications to meet your every flooring needs. We also provide competitive bids on tendered projects.
Hard Wearing Commercial Floors
Carpet
Vinyl
V.C.T Tiles
Hardwoods
Ceramic and Porcelain Tiles
Specialty Safety Flooring
Rubber Flooring
Gym Flooring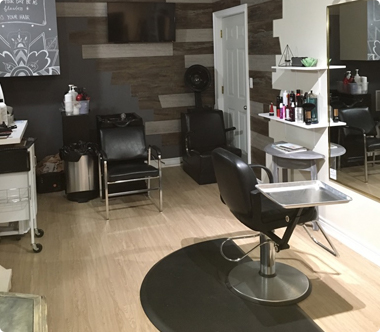 Some of the Commercial Flooring Suppliers We Use
Accessibility issues? Michael's specializes in wheel-in Handicapped shower systems.
On the mark and right on the money, there's Michael's commercial hardwood engineered floor for your business.