5 Things to Consider When Choosing Commercial Flooring
March 1st, 2021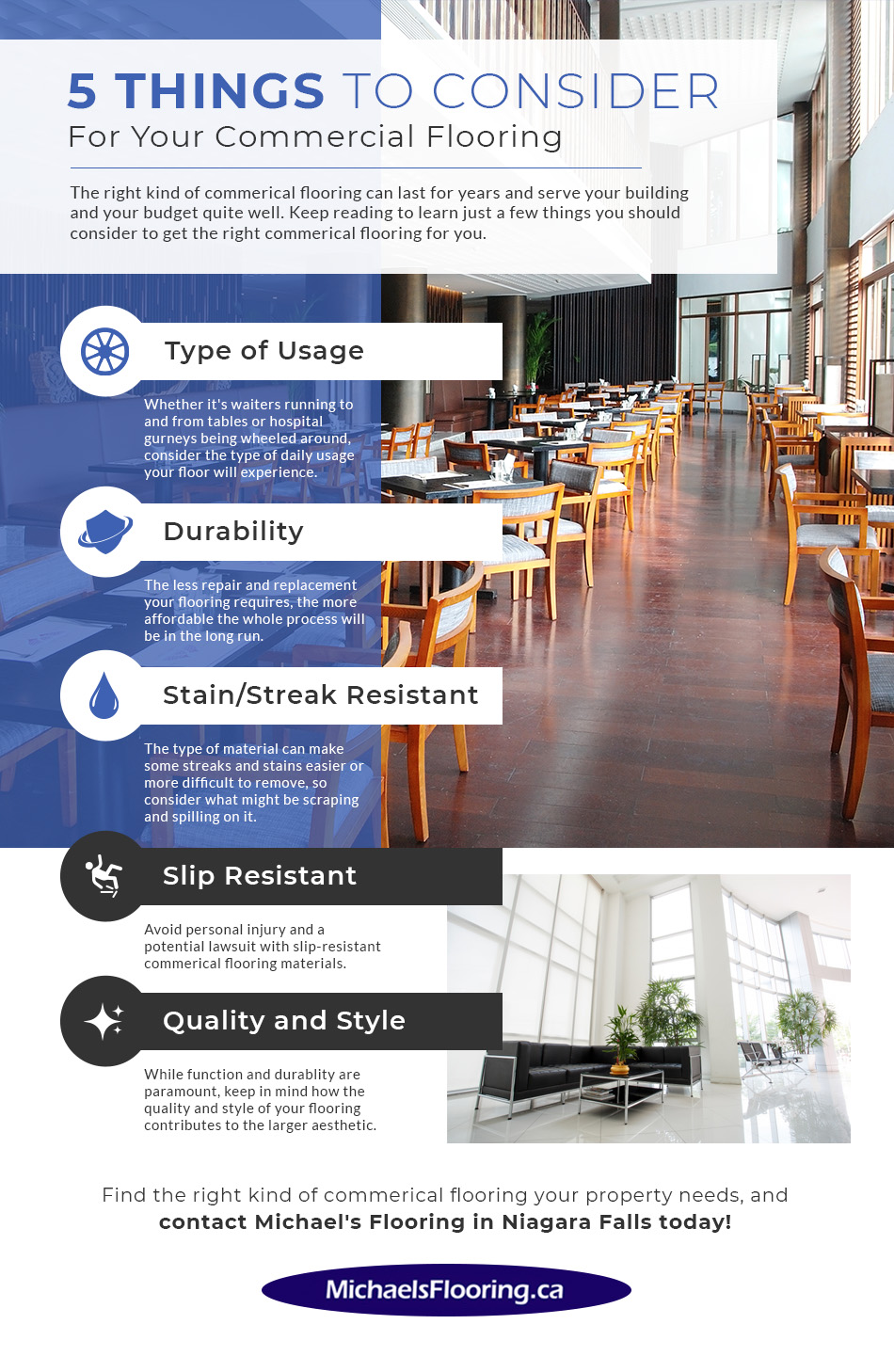 When you are designing and outfitting the interior of a business, school, or municipal building, you have to consider a number of locations and spaces. You have to consider the walls and what color would look best for the purpose of the room, you have to consider what type of ceiling material you want and where light fixtures might work best, and maybe you even have to consider how much natural lighting the windows will create. But no matter how you design your space or what you are considering, there really isn't anything more important than the material and type of flooring you choose.
As much as the style, theme, and "feng shui" of a space might be important, the flooring will be used every single time the room is being used. As much as the aesthetic in the feel of your commercial flooring will matter, nothing will supersede the durability and practicality it serves in everyday usage. Whether it's a school, a hospital, or even a restaurant, you
But why sacrifice one for the other? And that's where Michael's Flooring comes in. The style, design, and selection of our floors is only beat by the quality, durability, and reliability of our flooring material. Our team of flooring specialists have over 100 years of combined experience servicing, installing, and advising on quality flooring, both commercial flooring and residential flooring, and we would be happy to offer our services and quality commercial flooring to you. Keep reading to get a glimpse of just five things you should probably consider when choosing your commercial flooring, or contact us today at Michael's Flooring and see how our team can help you.
Type of Usage
The first and most important thing you have to consider for any type of commercial flooring is the type of usage. The flooring of a school will be treated very differently than the flooring of a hospital or the flooring of a restaurant. When you are considering your commercial flooring, you need to think about the students, patrons, patients, or employees that will be walking around on it every day. Students will mean lots of feet and plenty of opportunities for skid marks, whereas patients in a hospital might mean fluids and/or hazardous chemicals being spilled. Restaurant patrons and employees will need a slip-resistant commercial flooring material to maintain customer and employee safety. Consider the traffic the flooring will experience when considering the type of usage, and type of commercial flooring you want to choose.
Durability
Whether you are a school, a hospital, a motel, or a successful business, you have a budget to work with. That means buying and investing in materials and products that will last, getting the best bang for your buck, and limiting the additional funds needed for replacements and repairs. The durability of your commercial flooring is no different. Your commercial flooring needs to withstand whatever your business or operation may throw at it, and it needs to withstand for years and years. Replacing flooring is not cheap,  and installing commercial flooring that stands the test of exposure and time means little to no additional expenses are required. The commercial flooring we provide at Michael's Flooring has durability and longevity in abundance,  so consider Michael's if you are in the market for new commercial flooring.
Stain/Streak Resistant
We've all seen the signs regarding gym floors that say "no black marking soles". And that's because we have all seen the black streaks and stains that can occur from shoes or moving heavy objects on said floor. Even if black-soled shoes are not your concern, the ability of your commercial flooring to resist stains and streaks should be. Whether it's the restaurant kitchen floors that should easily wipe down from spraying grease and sauces or motel floors that will be used by guests and cleaned by housekeepers, Your commercial floors need to be able to withstand potentially staining or streaking occurrences. Luckily, at Michael's Flooring, we offer a wide selection of high-end commercial flooring, including materials that are stain- and streak-resistant.
Slip Resistant
As cartoony and comical as slipping and falling might seem from a distance, it can be incredibly risky and a large liability for any commercial or municipal building. Slipping and falling on a hard floor can easily lead to back, neck, and head injuries, and in the modern era, can often be accompanied by lawsuits by the damaged party. No commercial or municipal building owner wants a lawsuit on their hands, or their employees/ patrons slipping for that matter. Luckily, there are commercial flooring materials that offer slip-resistance, using a certain material and coating to improve friction. While they won't make it impossible to slip, they will make it quite difficult, allowing customers and employees to feel safe and protecting the value of your property.
Quality and Style
While it may not be the first thing on your list in terms of practicality, durability, and affordability, the quality and style of your commercial flooring is still quite important. Whether it's contributing to the larger aesthetic of your restaurant, or you simply want to match the color of the walls inside your school, the style of your commercial flooring can play an important role in the overall feel of your building. The visual quality of your commercial flooring also matters; while you may be able to get a durable and reliable material for your commercial floors, if it doesn't look very good or looks low-quality, it might turn off potential customers, or even receive an increase in harsh treatment due to the assumption of low-quality. Luckily, our team at Michael's Flooring can point you in the right direction, and find a commercial flooring style and material that fits your aesthetic, and serves the purpose you need it to.
Commercial Flooring in Niagara Falls – Michael's Flooring
As you can see, if you're in the market for commercial flooring, there are a number of things you need to consider. It might seem pretty overwhelming to have to consider all of these things, all within your budget restrictions, but there is no need to worry; our team at Michaels is here to help. Visit our store in Niagara Falls, and get the professional advice you need for your commercial flooring. Contact us today!